There are so many things to do around your household, when it comes to cleaning, that some items slip through the cracks and do not get touched. One of the most forgotten items in households is the toilet tank. This area of your bathroom, if left unclean, can lead to the buildup of bacteria, mold, and odors that can have your bathroom consistently smelling unpleasant, as well as pose a health risk.
You should take the time at least twice per year to clean out your toilet tank. And, It only takes a few minutes to do!
---
Constantly Flushing Unclean Water Leads to Staining & Odors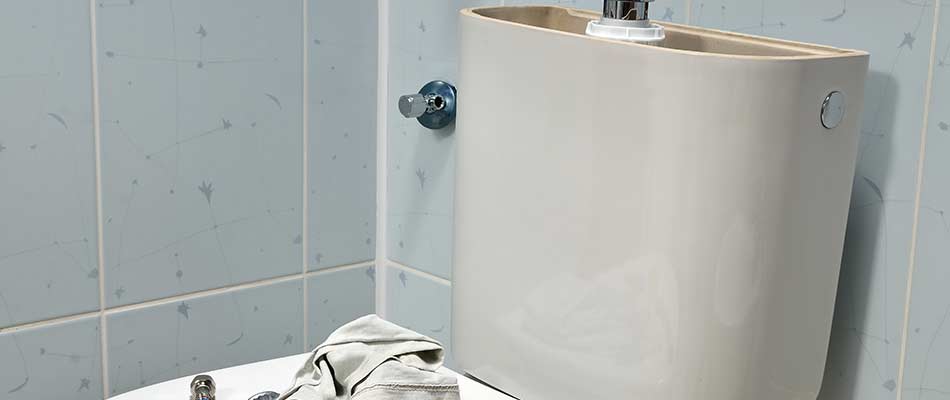 Your toilet tank and toilet bowl are part of the same mechanism, so the same water affects them. If the water in your tank is unclean, then you are constantly flushing unclean water into your toilet bowl, which can lead to staining and odors.
---
Rarely Used Bathrooms Could Have Bacteria in Their Toilet Tanks
If you have a basement or guest bathroom that is rarely used, or you leave your home to go on an extended vacation, the result can be an unsightly ring of bacteria or mold in your toilet bowl. This means the bad bacteria is lurking in your toilet tank as well. Make sure these untouched bathrooms are flushed periodically and cleaned as often as your other bathrooms.
Regular bathroom cleaning on a weekly basis, as well as twice-per-year toilet tank cleaning, will help with avoiding the problems of mildew, mineral deposits, and rust.
---
Replacing Damaged Parts During Bi-Annual Toilet Tank Cleaning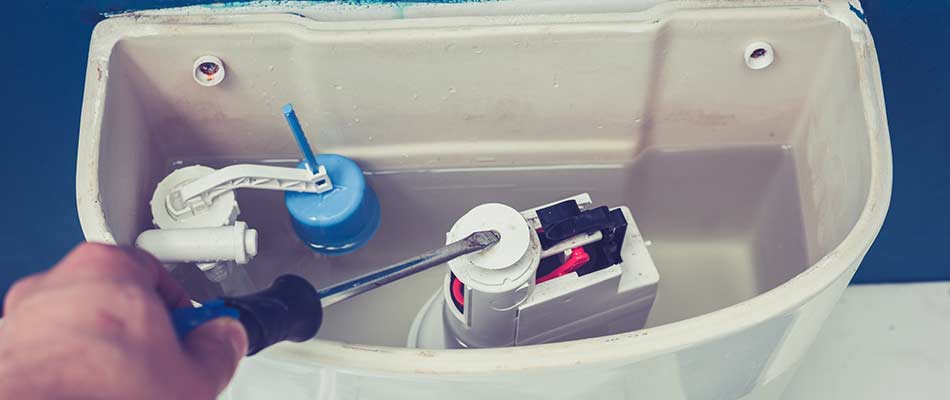 During your bi-annual toilet tank cleaning sessions, check your mechanical parts to make sure they are in operable condition. Replacing worn or old parts is much easier to do when the tank is empty and clean. You can also take this time to oil any parts on the flushing apparatus to help it operate more smoothly.
---
Steps for Cleaning Your Toilet Tank
Be proactive in how you deal with your bathroom cleaning, and that includes your toilet tank. Cleaning this area in your bathroom can take you less than 20 minutes, and most of that time is just letting the disinfectant spray sit and do its magic.
For the first step, you need to drain the water for easy access. Turn off the water using the valve located below the tank and flush the toilet once to drain any remaining water. Next, use a disinfectant spray, preferably one made with white vinegar, to spray down the entire inside of the tank. Let this sit for approximately 10-15 minutes before cleaning it off the surface. This allows ample time for the solution to dislodge dirt or debris and kill any germs.
Try using a toilet brush to scrub the tank clean. This will clean the tank much easier than a cloth and give you an extended reach with the handle. Additionally, your toilet brush will help you get all the nooks and crannies, resulting in a spotless toilet tank.
Use caution with commercial products, especially automatic toilet bowl cleaners. The chemicals these are made from can rot the rubber flapper valve and cause a leak, resulting in a visit from your plumber.
---
Contact us for tips on proper plumbing maintenance or to keep your plumbing in excellent condition with our service offerings.
It's apparent that part of taking care of your plumbing includes properly cleaning your bathrooms, especially any toilet tanks. Make your fixtures last longer by being proactive in cleaning and caring for them.
For more tips on proper plumbing maintenance that you can do to keep your plumbing in good, running condition and to avoid potential health issues, contact Curtis Plumbing at (813) 672-4111. We help homeowners keep their plumbing in excellent condition by offering multiple services and home plumbing tips!