Only slightly less treacherous than a broken A/C unit for those of us in Florida, clogged drains are an unfortunate part of life and it can be difficult to know whether or not to call in a professional. If water is still flowing or the blockage is caused by organic matter like coffee grounds or hair, home remedies can potentially clear up the issue! If there's no water flow, the clog is located behind a wall or under the floor, or if the clog was caused by hard objects or sewage, you're best off calling a professional plumber to tackle the issue. However, if you aren't certain what is causing the issue or how extensive the problem is, it's always better to air on the side of caution and hire a professional. With a professional on the case, you can be confident your plumbing issue is in capable hands and being taken care of to the fullest extent.
---
Simple clogged drains may be able to be resolved by home remedies.
When assessing your clogged drain, check if there is any water still flowing. If there is, you may be able to solve the problem on your own with home remedies. Similarly, if the clog is caused by organic matter like coffee grounds or hair, you may be able to resolve it on your own. Determining the severity of the issue and the source can help you decide on your next step, whether that's trying to DIY it or calling for professional help!
Baking soda and vinegar is a common solution to clogged drains that can help clear out blockages.
---
If your clog has no water flow, is unreachable, or is caused by a hard object or sewage, call a professional.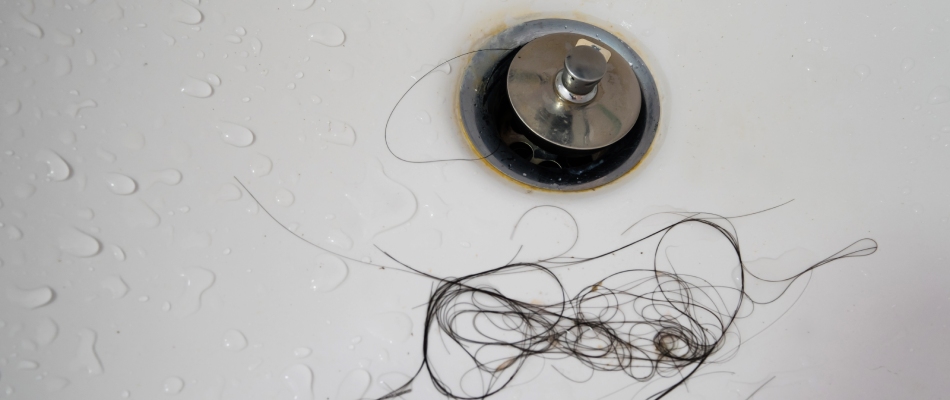 Although home remedies can help with many situations, some instances require professional help before they can be resolved. Some examples of these instances are:
No water flow: If the drain is completely backed up with no water flow at all, it can necessitate a bigger fix.
Unreachable clog: For clogs that are not easily reached – perhaps located behind a wall or underneath the floor – plumbers have situation-specific tools that can gain them access with minimal to no damage to the surrounding structures.
Blockage by a hard object or sewage: If your clog originates from a hard object or sewage, it can cause complications for your system as a whole if not handled correctly and with professional care.
---
With a clogged drain, it's always better to air on the side of caution and hire a professional.
When things aren't going right – especially if you're having trouble identifying the cause of the clogged drain or how extensive the issue is – it's best to call a professional. Airing on the side of caution can save you many headaches in the long run, and many of us have experienced the DIY trap of trying one "surefire" solution, it not working, trying another that doesn't work, and so on. Rather than put yourself through the stress of that endless cycle and potentially exacerbate the issue, hire a professional plumber to investigate. They will have the experience and trained eye needed to quickly troubleshoot the issue and are equipped with the tools to safely and effectively address it.
---
Struggling with a clogged drain? Call our professional plumbers to resolve it painlessly for you!
At Curtis Plumbing, our professionals are well-versed on everything and anything that could cause a clogged drain. We'll arrive ready to get to work, swiftly and accurately assessing the situation and source of the issue. Our plumbing technicians are adept at selecting the best course of action to achieve the quickest resolution for you so that you can get back to living your life, clog-free! Our services are available in Riverview, FL and nearby areas like Brandon and Valrico. If you're ready to resolve your clogged drain, call our team today at (813) 672-4111 and schedule our drain clearing service!